This is my first time of life doing Thai Massage. Before I start, I want you to know that I had an experience with the Applied Thai Massage Therapy at SiPH. At that time, I went to concert, standing ticket. My legs and my back had been hunted so, I decided to go. And the result was amazing!
At SiPH, you have to make an appointment with a doctor, real doctor, who will analyse what is your problem and send you to the therapist to get a massage later. It sounds trustworthy, right? However, controlled by the doctor, you can't choose your own package or cost. Everything depends on what the doctor think suitable for your problem.
Trust me. Don't lie to the doctors. They'll know.
Anyway, let's talk about Nap Relax. My inspiration to take Thai Massage was tension pain in legs due to I walked a lot yesterday. Moreover, this spa's at Chamchuri Square, next to my school and it costs only 350 THB per 60 mins. What a good deal. So, why didn't I.
I hadn't book in advance. I just walked-in. Then, the old lady took me to the small sink to clean my feet. That was nice. After that she leaded me to the big massage room which was separated into small cells by curtain.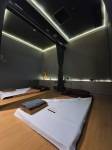 This is how it's look like but, the real one is dimmer.
From my experience, the cushion, manner, place are quite fine but, I didn't feel relax as I expected. The worst thing is that I felt more pain at my neck and shoulder when I arrived home. Maybe it was my fault choosing unsuitable package for myself. I might say that this is going to be my last time in this season with massage.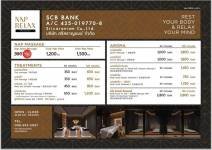 Love,
Your writer