Q. You are on a world tour, what are your frank impressions?
A. There is a song called "Mikrokosmos" on our album, and it feels like you're actually watching it live. It's very moving and it makes your heart warm. It's a really happy time. I'm biting it.
Q. What kind of scenery do you think of when you close your eyes?
A. There are many things that come to mind, but they are not clear. Something is vague ... I can see it, I can't see it (laughs).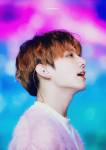 Q. What do you think the members are "lovely"?
A. Jimin. I feel that I love the stage from the bottom of my heart, and that's what we really communicate with.
Q. What is your favorite refreshing method?
A. I recently went to Ariana Grande's concert and enjoyed it a lot. I was inspired as a singer, and it was great to enjoy the music from the bottom of my heart.
Q. What are the conditions for someone who thinks "this person is wonderful"?
A. People who learn a lot, people who can communicate with me. Someone who has some cool things!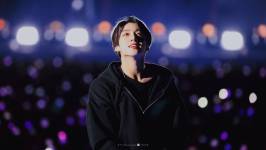 ? Special Thanks?
: CanCam JP Magazine ?
Translate by : Google translate ?
Thanks:? 'Enchanted' fansite for pictures ???
MMAYSP93