"Stop trying. Take long walks. Look at scenery. Doze off at noon. Don't even think about flying. And then, pretty soon, you'll be flying again."
- Ursula, Kiki's Delivery Service (1989)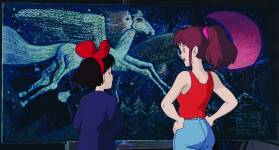 Kiki's Delivery Service (1989) is one of the ethereal works from Studio Ghibli. It depicts the story of Kiki, a 13-year-old witch, who is in search of the town she can work as a delivery girl. One day, she loses the ability to fly, the sole skill she uses to make a living. Kiki's good friend and an independent painter, Ursula then takes her to a cottage deep in the forest so that they can get their minds off work.
The quote above is from a scene where Kiki tells Ursula that she has no idea how to fly effortlessly anymore. To solve that problem, Ursula recommends that Kiki should take a good rest instead of pushing herself harder. It turns out that Kiki get back on her broom naturally after following Ursula's advice.
Many of us might experience "burn out" from working relentlessly like Kiki, so much so that it's difficult to do the things we're usually good at. The awful feelings can pile up if your self-worth is tied with your productivity.
One way to cope with burning out is shutting off work for a while, truly and intentionally give your body and mind a break. It can be a closing your eyes for five minutes or being lazy for a whole day. A good rest will definitely help you regain the energy you need!

*This piece is translated from a section in "REST" ,a magazine I made in my college years
Check out the full version here (scroll down a few times and you'll find it under Free Copy Magazine)
**You can watch Kiki's Delivery Service on Netflix. I recommend enjoying it on your day off so that you can immerse in the beautiful story, scenery and soundtrack!