26 July 2016
4 days before 1 year anniversary living in Dubai and yea... Working for Emirates, I got the chance to be back to Holy as a guest speaker !
I was shocked when I started counting how many years I have graduated from this school. And yea, I used all my 10 fingers. ??
Many things have changed but the only thing that has always been the same is the feeling of being in there. At that time, most of us might think it was not the best place for our high school lives. Why am I here ? However, when I looked back, I don't know how to explain that I'm so grateful to be in this school. I can't thank enough. I would not know how to manage my life and prioritizing things if I weren't here. Plus, I would not be able to speak English or survived in MUIC without the fundamental basics from here. We were just a very small family, but this family is what makes me the person I am today. It was a very hard time. I struggled a lot but now it was all paid off.
Thank you Mrs. Davinder Phool, Mrs. Asawin Apple Arora again for having me. I hope I could be a tiny inspiration to the girls. Also, glad to see all the teachers again. I miss you all a lot !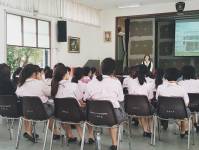 ps. New school bag is so cute ! เทรนดี้มาก ควรซื้อเก็บ , ยูนิฟอร์มดูทันสมัยขึ้นทันตา, ตึกใหม่เว่อวังอลังการ ขาวดี ฮิปสเตอร์มากจาา