Every year, new brands emerge in the fashion industry one by one, springing up like mushrooms. And another womenswear brand that has such eye-catching vibes. Stolen Stores and Onarin collaborated to disrupt the world of established luxury fashion by the concept 'Started by fashion creators, building for fashion creators.'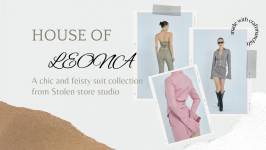 Let's suit up!
House of Leona, with its neatly cut premium silk satin, this chic and feisty collection is very eye-catching at first glance. Bias binding lace-ups along the front Slim-fit with adjustable metal buckle at the back make the suit look fun and not boring.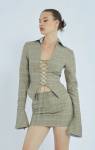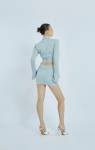 'The Leona Lace Up Sleeveless Suit' has a gimmick in the front. The pattern is a rope mesh to add chic to the otherwise boring look. Short-sleeved jumpsuits are both fashionable and functional.
For the Lace Up Suit. You could wear it long or fold sleeves up for a more energetic look. Let's say you pair it with mini skirts for a great look!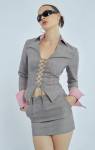 Lace up suits, mini skirts, and slim-fit mid rise waist pants can be mixed and matched to create a variety of looks. Everything is fantastic!
The best color combinations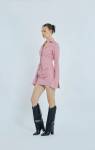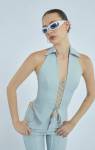 This collection's color scheme is a vintage shade, not as flashy as other Stolen Stores collections. However, there are four iconic colors that go very well together. Both plaid gray, which hides a little sweetness with pink fabric inside, and sky blue shades give a polite vibe while brightening the look.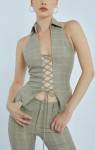 Suits never get old
House of Leona, the collection is mentioned here. A collection of chic suits in period style that perfectly blends modernity. Consider the history of famous designer suits. They are all elegant and ergonomic, best for a polite dress up in the office. Until Christian Dior (Founder of Christian Dior) created the 'Bar suite', haute couture of the spring/summer collection in 1947, emphasizing women with a curved shape like an hourglass which is the famous women trend at that time. Since then, it has become a legendary icon collection.
In the clothing industry, this is also the beginning of fashion suits.
Piece by piece, made with special craftsmanship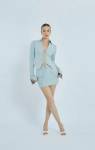 Every collection of Stolen Stores will always sneak a small trick to dress up. This collection has a sample look that matches the dress with the boot and gets another gorgeous look. But if you love to wear them with a mule heel, it's also a great choice!
Source :
StolenStores