Hello, everyone that come to read this. My name is Saowapak Kaewchay. You can call me Pom. Now, I study at Walailak University. My Major is School of Science, and this below is me.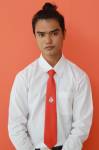 I will talk about my life before came to Walailak University.
I'm country boy not like city boy. In high school life I studied at Science Classroom in University Affiliated School Project (SCiUS) at Thaksin University cooperate with Paphayompittayakom school. I study a lot of Science and Mathematics and sometime it make me crazy but finally when I finished high school I until study Science in university.
Why I choose study school of science in university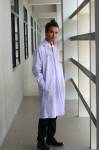 School of Science has bachelor of Computational Science. It divide 4 elements include Biology, Chemistry, Physics, and Mathematics. I study in Mathematics because I think I can't study Physics, Biology and Chemistry. Let's back to topic why I choose study science. In real I am boring about science. It's difficult and it can't use in real life but because when I finished high school I'm just wanderer. I play safe my life in university by select bachelor that I think I can do. Because I study
a lot of Science and Mathematics in high school so, I choose science continue.
In my major we study about problem solving in real world by using scientist method. In first year we must study all element of Computational Science we will choose minor that we interest in second year. Now I'm second year student and I choose Mathematics.
In Mathematics we study more of everything that relate Mathematics such as Number, Probability, Statistics, Combinatorics, Algebra and Calculus. We study a lot because we must use it in our work. When we have mathematics problem if we haven't knowledge we can't solve. sometime Mathematics is tool for science solving.