Krystal Jung is one of the idols who has successfully developed a career in the acting world. His face is often wara-wiri in a series of successful dramas. Call it like The Heirs (2013), Prison Playbook (2017) to currently airing, Crazy Love .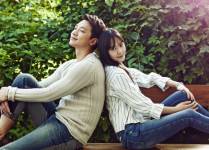 Not only capable in terms of acting, Krystal Jung is also able to build emotional bonds or chemistry with co-star actors in every drama. Paired with actors who are older or younger, he is always able to fill his share and roles when it comes to romance.
Come on, look at the series of portraits of Krystal Jung with her co-star actors in KDrama. All match!
1. Being a shy high school couple in The Heirs (2013), Krystal Jung and Kang Min Hyuk's chemistry successfully made them excited
2. Krystal Jung had a crush on Kim Myung Soo who played an idol in the drama My Lovely Girl (2014)
3. Having a complicated relationship, Krystal Jung is actually attracted to the charm of a music producer, played by Rain in the drama My Lovely Girl (2014)
4. In the drama The Bride of Habaek (2017), Krystal Jung and Gong Myung besides both acting as gods, they also have a hate but love relationship
5. Reaping praise, Krystal Jung has tried the role of Park Hae Soo's lover who is an athlete and convict in Prison Playbook (2017)
6. The definition of partner in crime, Krystal Jung and Song Seung Heon's chemistry in the drama Player (2018) still makes me anxious even without romance
7. CLBK in the drama Search (2020), Krystal Jung and Jang Dong Yoon both play tough soldiers in completing important missions
8. Although Choo Young Woo's attention at Police University (2021) failed to make Krystal fall in love, the chemistry between the two really matched
9. Being a dorm mate and investigating the truth together, Krystal Jung and Jung Jin Young ended up dating in the drama Police University (2021)
10. Crazy Love (2022) is an office romance drama between Krystal Jung and Kim Jae Wook that you shouldn't miss
From the series of portraits above, it is evident that Krystal Jung has always succeeded in building sweet chemistry with her co-stars in KDrama. Making the audience excited and excited at the same time with the romance that he acted. In your opinion, which actor Krystal Jung fits best with?
Topic:
CHEMISTRY
KRYSTAL JUNG
KDRAMA