Fabio Quartararo failed to penetrate the top five positions in the Argentina GP race. The Monster Energy Yamaha racer was only able to finish the race in 8th position.
Welcoming the American GP racing series which takes place this weekend (8-10 April 2022), El Diablo is determined to achieve maximum results. Because, the more points are wasted in MotoGP 2022 , the chances of defending the world title are getting thinner.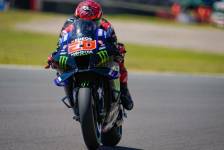 1. Quartararo is currently in 5th place in the drivers' standings
Fabio Quartararo is currently still in 5th position in the standings with 35 points. The 2022 MotoGP season is also still in its three racing series. The championship journey is still far away.
Even so, for El Diablo who is trying to defend his world title, throwing away points means adding to the burden. Moreover, the competition in the MotoGP premier class is getting fiercer in each race.
2. Quartararo compares his current condition with last season ahead of the American GP
Ahead of the American GP which was held at the Circuit of The Americas (COTA), Quartararo was determined to find the best results in order to improve his position in the drivers' standings. He also compared his current situation with last season when he visited COTA.
"Austin (COTA) was a key race to the world title last year. The second place finish felt like a win, because it gave me the first match point to secure the title at Misano. However, now we come with a completely different situation, "said Quartararo quoted by Speedweek .
3. Says he can't wait to be more aggressive at COTA
Fabio Quartararo also admitted that he couldn't wait to appear more "attacking" in this race. Moreover, COTA has been re-paved after receiving input from the team and drivers regarding the bumpy track problem.
"We will attack stronger now and of course try our best. Last year, the bumpy tracks there were almost unbearable. Since then, the track has been re-paved. I wonder what we will be able to do next Sunday," said Quartararo
4. Yamaha takes a different approach in its bid to win the 2022 world title
Yamaha is aware of the tight competition in MotoGP 2022. Lin Jarvis as Race Director is still trying to win the world title again. However, this time the approach taken is consistency in getting points.
"We will try to target the 2022 world title through continuous consistency because of our lack of top speed . We remember that in 2020 a victory was enough for Joan Mir to claim the world title," Jarvis explained.
5. America MotoGP 2022 race week schedule
MotoGP 2022 enters the fourth series of races. Circuit of The Americas (COTA) will be the witness who won the race this time. Surely you don't want to miss it, do you? For that, see the schedule for the American MotoGP race week below:
FABIO QUARTARARO
YAMAHA
MOTOGP 2022
Argentina GP