DAY 03 (19/06)
We come very early about half past eight in the morning. For
final test and fix.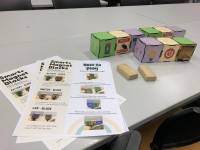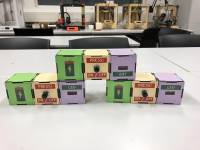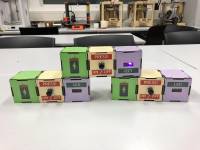 Before the kindergarten come. We prepare the space in the room and every equipment on the desk ; blocks, manual paper and whiteboard pen for children if they need to draw something on our blocks.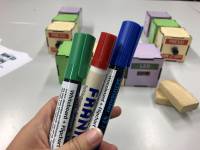 Finally the kindergarten come. They are very cute and small. Unfortunately, we did not allow to take the picture of the children. There are 2 teachers and 6 kids.
At first, the teacher let them play with their wood blocks for a while and then give our block for them. They try to connect it together with magnet first. Take not too much time finally they can connect 3 blocks in the right way that can press the switch button to turn on/off the LED.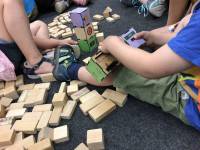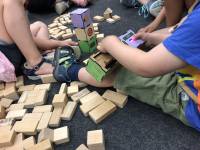 Then they try to combine our block with their wood block. They imagine our block to be many things like house, fortress or spaceship.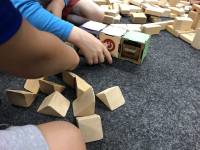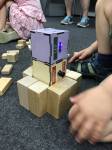 The activity go very well. And we went back to these question what we have got from observing the kindergarten played with our blocks today.
How do the children use the wooden block? What do they build?
The children use our block adapt with their wood block to build many thing as they imagine. For example spaceship, house etc. Also, using our block and press the switch while hold it at the eye level to be like the camera. Amazing!

How is they handling? Are they able to play or construct with the block?
They be able to construct our block in the right way by taking not too much time. At first they seem to be confuse but they trying till it work by turn around the block to find the side that can stick together. Smart kids :)
Do they explore the functionalities of the blocks? Do they understand what is happening?
They can light up the LED with 2 blocks in short time but when have the switch block, they explore to construct it in the right way by remembering that the switch need to be in the middle. But I am not sure they understand the electricity or not. Because they are too young.

What are the obstacles for the children while playing with the blocks?
The magnet is design for arrange in fix position. So, some side although it is the matching plus-plus and minus-minus but it can not stick because of magnet is pushing.

The hand of the door on battery block make the children very curious and try to open it. It can cause the problem with the circuit inside.

The switch is too hard for some kid to press.

The construct inside easy to broken when it drop on the fall.

Do the children do something unexpected, surprise with the block?