Fortunately, We didn't tell each other 'see you tomorrow'.
One of railway stations in London
We had known each other just for two hours and disappeared from each other for unpredictable times

All I know about her was;

She's interesting
She's so kind and cute when she laugh with my clumsy experiences that I told her
I talked too much when I was with her
She has one white vanilla-colored woven handbag beside her and Her emerald shining eyes stand out in her face
I saw her train ticket, it's written '
Marrakech Express /
Destination - Morocco'.
I think of her olive dress that waves
slightly
by the summer wind
left seat on the train
She put her handbag beside her before she lean her head to the window
close her eyes for a while
That woman who sat beside me on the bench at the station is very funny
I guess that she doesn't organize her things well
She's a little bit like serious person, behaving like everything surrounding her is mess which in fact it's not: she's funny
she has a lot of stories..
I would like to listen more..
At the station
It is already dusk
I'm still here standing beside the bench
My thought scatter in my mind, it has happened since previous hour
olive color
is pictured again and again in my mind
There is flickered light flicker inside me
And with what on earth that I don't know, I quickly walk to ticket counter in the station
"One London-Morocco please"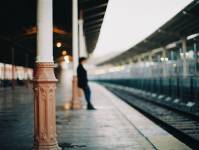 She have seen the paper in her hand for long hour
How can a woman be so clumsy to stumble on her own shoes during crossing the road for three times connectedly
She laugh suddenly when her thought move from the texts in paper to one girl
She keep the paper in her handbag
I feel like it was a new thing for me or maybe...my long-wished thing
my long-wished thing

Many things including the times pass around but it not tomorrow yet
What one doesn't know and one knows is
the texts on that piece of paper
'last surgery tomorrow XXXhospital'